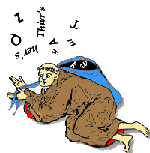 Stages in preparation for publication or presentation
Glossary of abbreviations
& terms
Titivillus Editing for the Health Sciences
Preparing Ideas and Research Results for Publication
Timothy DeVinney, Author's Editor and Copy Editor
Titivillus Editorial Services
---
Who Am I?
I have been a copy editor since 1987 and have worked for many publishers and journals in the health sciences (see list of past and present clients).
| | |
| --- | --- |
| | I was born in Michigan in 1955 and grew up there. I studied philosophy in university—first for my BA at Albion College, Michigan, and then in the graduate school at the University of Toronto. After 1 term at Toronto, I moved to Athens, Greece, and worked as a freelance photographer. For 7 years I photographed Greek archeological and historical sites and museum artifacts. In 1987 I began work as a freelance copy editor. I have lived in London since 1995. |
My hobbies are yoga, t'ai chi, hiking, and reading medieval murder mysteries. My lifetime passion is clarity of expression in English.